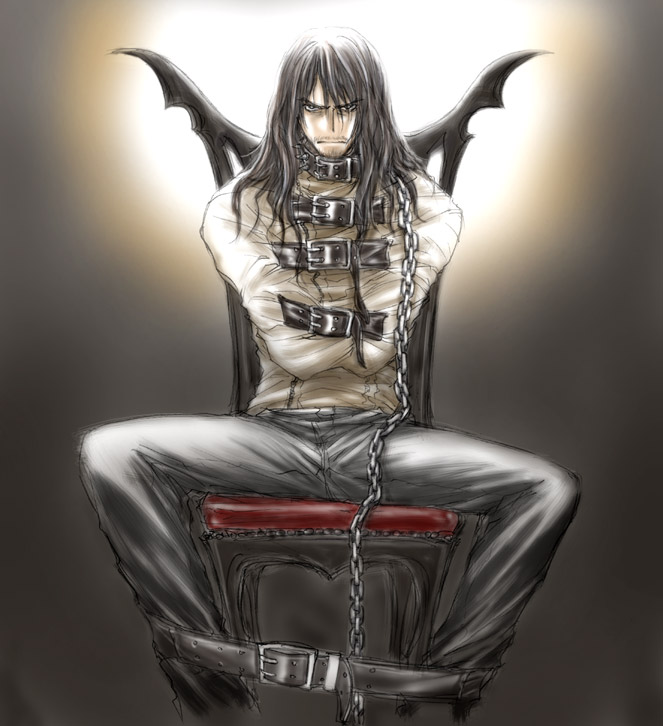 Spoiler:
BASICS[/center]
Name: Jaaku Asahina
Nicknames: none
Gender: male
Sexual Orientation: unknown
Age: unknown (says hes 26)
Race: human?
APPEARANCE
Eye Color: blue (grey in the book)
Hair Color: black with red tips (grey in the book)
Height: 6 foot
Weight: 152
Markings: these are on different parts of his body
Spoiler:
Apparel: anything punk when he's outside the book
ADDITIONAL INFO
Personality: Jaaku is guy who always seems to be in a bad mood. He doesn't care for others peoples say. He has a short fuse and goes off on little things. If he has a weapon it is best to stay away. His personality has been altered from being trapped in a book since he was young.
Habits: tying a noose around his neck
Likes: pain, blood, seeing people in pain, the beach, singing, going to concerts
Dislikes: books, reading, water (can't swim), being confused
Special Ability: unknown
Weapon: anything
HISTORY[/center]
Parents/Guardians: the Asahina family mother and father
Siblings: he has 12 other brothers he thinks
Hometown: unknown
Birthday: unknown
History: Jaaku was trapped in a ancient book a long time ago for commiting a bunch of murder and sins. As punishment he was sealed away so he wouldn't be able to hurt anyone anymore. As he sit in the books dark room he aged but if the book was to open he would return to looking like he use to before he was sealed away. The Asahina was collecting books and they came across Jaakus book and opened it. The forgotten book came to life and Jaaku was set free. He decided not to kill this family since they set him free form his prison. He was greeting into the family and adopted as part of the family. However, he didn't seem to get along with the other kids. He often went off on his own and now that they are all older none of the boys know how to act around him. Except for some of the younger kids still try to talk to him and what not even though he pushes them away. He ended up leaving the condo the kids of the family stayed in. He lives on his own and is part of the Dry Juice gang. He also works at Black Needle when he doesn't feel like asking the family for money. (He still has the collar that came with him out of the book. He put it away trying to forget about it but he can't bring himself to throw it away.)