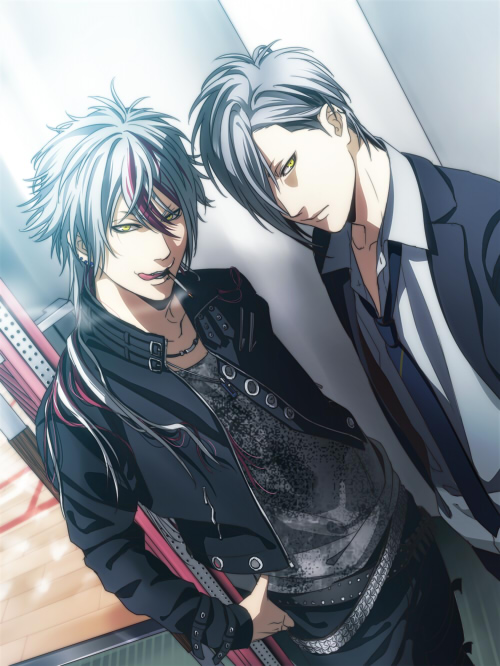 BASICS[/center]
Name: Sin(left) and Setsuna(right)
Nicknames: none
Gender: male
Sexual Orientation: both bi
Age: Sin is 19 and Setsuna is 20
Race: Sin is a incubus
Setsuna is a fallen angel
APPEARANCE
Eye Color: gold
Hair Color: sins hair is sliver with red steaks through it
Setsuna has just sliver hair
Height: both 6 foot
Weight: *ignores question*
Markings: they have a matching tattoo on their lower backs of a heart with a cross through it that has wings. Also on their inner thigh they have the red flame that shows they belong to the red demon gang.
Apparel: sin wears anything punk while Setsuna wears semiformal clothes
ADDITIONAL INFO
Personality: sin is a total rebel. He acts how he wants and never misses a beat. He normally found in a rock concert acting crazy. He is punk to his bones.
Setsuna is acts more mature then his younger brother but he's as crazy as sin is. When people are around he acts level headed and tries to keep his brother out of trouble. But in his heart he wants to join his brother in his mischievous deeds.
Habits: unsure
Likes: rock music, the red demon gang, rain, hot sauce, smoking
Dislikes: being told no, spiders, missing out on a concert
Special Ability: they can control fire and they have a few special tricks up their sleeves but they keep them a secret
Weapon: switch blade and butterfly knife
HISTORY[/center]
Parents/Guardians: does it matter
Siblings: none
Hometown: same home town as Suoh
Birthday: 7/6 and 8/23
History: Sin and Setsuna have a very interesting and complicated past. And they normal keep it to themselves. It holds the key to their destruction and they don't trust that with anyone not even their boss Suoh. They are part of the red demon gang but they are hardly seen with the whole gang. They are normally sent on under cover missions.