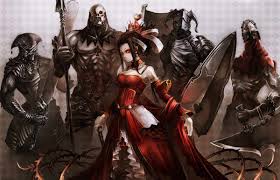 " />
BASICS
Name: Anastasia.
Nicknames: The Red Queen. Queen of Hearts
Gender: Female
Sexual Orientation: Straight
Age: 20
Race: Sorceress
APPEARANCE
Eye Color: Red
Hair Color: Dark Brown
Height: 5'5
Weight: -glare-
Markings: None
Apparel: in picture
ADDITIONAL INFO
Personality: Anastasia is cruel and hates everything and everyone.
Habits: Killing people who annoy her.
Likes: Magic, power, more knowledge.
Dislikes: Will Scarlet.
Special Ability: Magic.
Weapon: Magic
HISTORY
Parents/Guardians: Peasant farmers.
Siblings: None.
Hometown: A poor town in wonderland.
Birthday: No one knows.
History: Anastasia use to be of the lowest people. She was sold by her parents to a man named Will Scarlet. He was in love with her though and let her do as she pleased and soon they had a relationship and planned to be married. But one day she met a sorcerer and learned Dark Magic she started to rule wonderland and erased Will's memories and made him her servant. That's how he became the Knave of Hearts. Soon he regained his memories and escaped. He went to a different world and. She didn't care for him no more she cut out her heart so she could not love him and put it in a box and buried it within the maze around her kingdom.