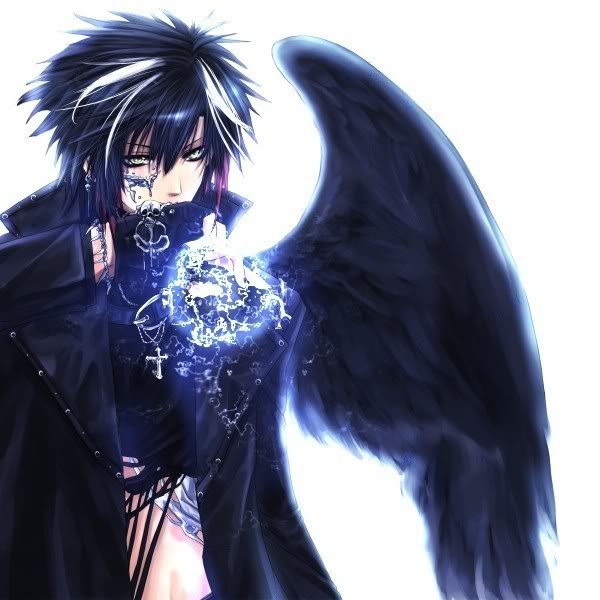 BASICS[/center]
Name: Unknown
Nicknames: Dark Angel
Gender: male
Sexual Orientation: doesn't think about it
Age: 20
Race: fallen angel
APPEARANCE
Eye Color: silvery white
Hair Color: black with white highlights
Height: 6foot
Weight: *silent*
Markings: tattoo under his left eye to cover a scar
Apparel: in the pic
ADDITIONAL INFO
Personality: unknown its locked away with his soul and memories in his cross. he acts how he wants. a bit distant and cold at first. but he can start to warm up to you after talking to him (by this it means he's stopped trying to kill you everyday). if you're able to unlock his cross you may find out more.
Habits: thinking everyone is an angel and almost kills them
Likes: unknown
Dislikes: angels
Special Ability: he can create balls of liquid energy they are very dangerous. they can do anything he wants them to.
Weapon: long knifes
HISTORY[/center]
Parents/Guardians: unknown
Siblings: unknown
Hometown: unknown
Birthday: unknown thinks it 6/20
History: Dark Angel is a well known a feared person among the angels. he became a fallen angel in the worst way and was punished greatly. one day he went off the wall for some reason and killed three high ranking angels with ease. the reason for these murders are unknown but he is very powerful. as punishment for this crime he was banished and his memory and soul was taken and put into the cross he wears. there is a key to break this curse but it will only appear if he has a change in heart or finds a person who can control him. he wants a name but he can't give himself one. he can't seem to get anyone to give him one because they always run away in fear after he tries to kill them because he thinks their an angel.
_________________
No Blood No Bone No Ash! The fire in my soul!
Spoiler: