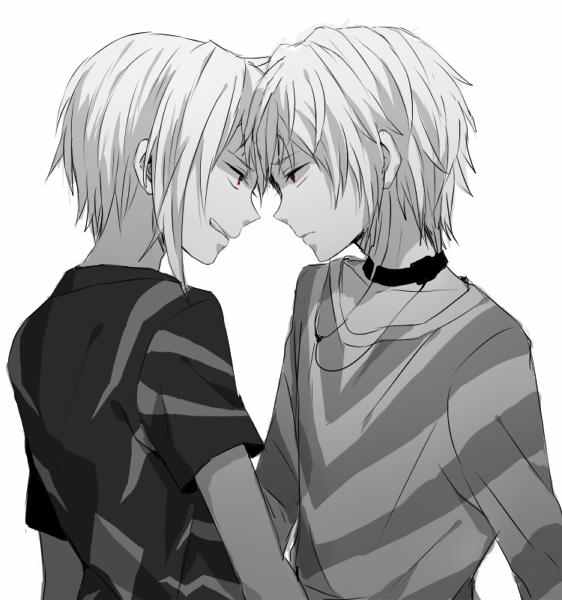 BASICS[/center]
Name: Yoi (on right) and Waru (left) Kisname
Nicknames: none
Gender: male
Sexual Orientation: unsure
Age: both 18
Race: Yoi - angel
        Waru - demon
APPEARANCE
Eye Color: red
Hair Color: white
Height: both 5 foot 12
Weight: both 110
Markings: none
Apparel: in the picture
ADDITIONAL INFO
Personality: yoi is very timid and nice. he's the voice of reason but he's normally the only getting pushed around by Waru. So he ends up getting into trouble even though he's the one protesting things. however, waru likes getting into trouble. He's a jerk and violent, he's always pushing his bother Yoi around. He likes being in control though sometimes he does have a nice side.
Habits: yoi has a habit of being dragged around by his brother like a pet (he has a protype master collar that no one seems to know about). waru has a habit of getting his brother into to trouble with him.
Likes: waru likes making trouble. yoi likes when its peaceful.
Dislikes: yoi dislikes it when people mistake him for waru. Waru doesn't seem to dislike anything.
Special Ability: unknown
Weapon: butterfly knifes
HISTORY[/center]
Parents/Guardians: mother and father
Siblings: each other
Hometown: *silent*
Birthday: both 4/29
History: Since Yoi and Waru look almost exactly the same they get confused for each other. Yoi hates it when people think Waru is him. Waru is evil and like to get his twin in trouble. yoi and waru normally got into a lot of trouble when they were young. yoi tries to be the good twin and keep waru from being evil but he can't control his evil twin. so he normally gets dragged and bullied by Waru. They travel around since Waru dragged Yoi away from home to see the world. He was also running from angel guards since he did something(unknown reason). Yoi knows that their running even though Waru doesn't say it. He somewhat hope that his brother gets caught.
_________________
No Blood No Bone No Ash! The fire in my soul!
Spoiler: