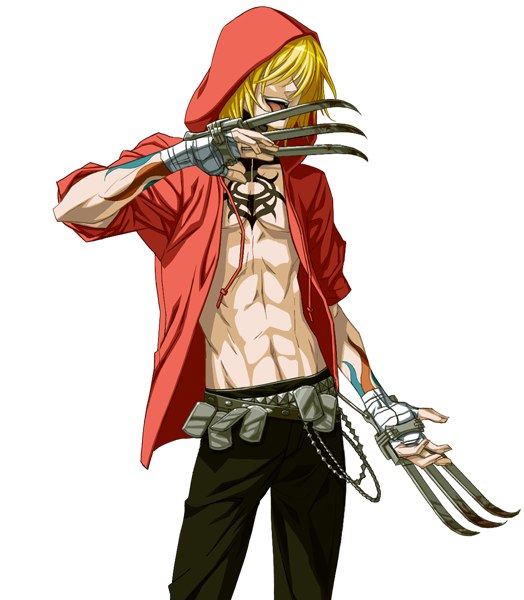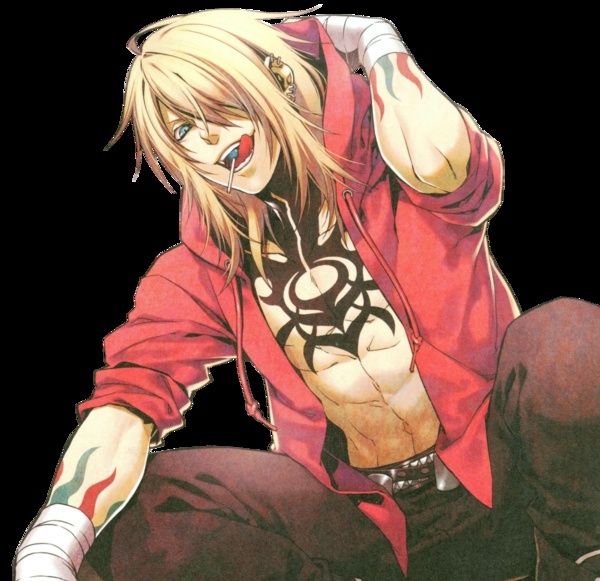 BASICS[/center] 
Name: Gunji Senso 
Nicknames: none 
Gender: male 
Sexual Orientation: doesn't care 
Age: 20 
Race: half demon/half angel 
APPEARANCE 
Eye Color: blue 
Hair Color: blonde 
Height: 6foot 
Weight: *middle finger* 
Markings: he also has a tattoos on his hands that are covered by bandages that travel up his forearm.
Spoiler:
Apparel: in the picture   
ADDITIONAL INFO  
Personality: hes crazy and almost seems evil. he is nice to you however, if he likes a person hes nicer to them then other people. but don't try to sneak up on him or he could kill you even when hes not wearing his claws. 
Likes: blood and disorder 
Dislikes: peace 
Special Ability: he goes crazy when he gets hit 
Weapon: the claws in the the picture 
HISTORY[/center] 
Parents/Guardians: better off died. claims Damian Senso as his uncle 
Siblings: none that he remembers 
Hometown: garden of games as far as hes concern 
Birthday: 9/20 
History: He is good friends with Damian Senso the war god in the garden of games. he is the only person who can almost defeat senso because hes crazy about blood and disorder. his parents couldn't control him when he was a kid or teen. they gave up on him and set him to to live with senso.
_________________
No Blood No Bone No Ash! The fire in my soul!
Spoiler: