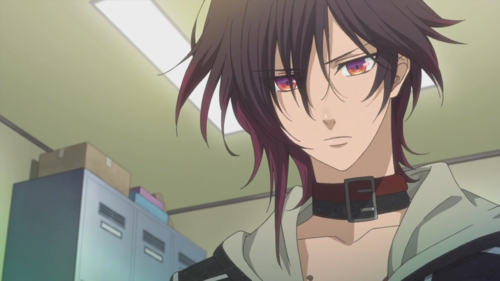 BASICS[/center]
Name: Shin Asiemna
Nicknames: none
Gender: Male
Sexual Orientation: doesn't care
Age: 18
Race: Human
APPEARANCE
Eye Color: red
Hair Color: black tipped with a maroon red color
Height: 5foot 10
Weight: *glare*
Markings: none
Apparel: in the picture
ADDITIONAL INFO
Personality: He is somewhat reserved, and mysterious.
Habits:  staying quiet when he really wants to say something
Likes: playing card games and is in the track and field club
Dislikes: being called an outcast
Special Ability: he can read peoples emotions
Weapon: knife
HISTORY[/center]
Parents/Guardians: father
Siblings: none Toma likes to act like his big brother
Hometown: *glare*
Birthday: 2/23
History: Shin was treated like an outcast when people found out that his father killed a man. toma however stayed by his side until he had to move away and become the princess guard. shin normally just keeps to himself so he doesn't leave himself open to being hurt.
_________________
No Blood No Bone No Ash! The fire in my soul!
Spoiler: