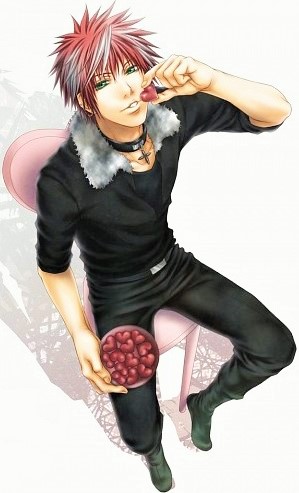 BASICS[/center]
Name: Rayne Drayaton
Nicknames: Ray
Gender: male
Sexual Orientation: gay
Age: 18
Race: Hybrid
APPEARANCE
Eye Color: green
Hair Color: red with white streaks
Height: 181cm
Weight: *middle finger*
Markings: none
Apparel: in the picture
ADDITIONAL INFO
Personality: ray can be really mean when he first mets you but once he knows your not an enemy
Habits: gets distracted by guns easily
Likes: guns and cool clothes
Dislikes: *quiet*
Special Ability: he has super human strength and speed when wearing his collar. all his serious power is in his collar so he never takes it off.
Weapon: soul gun
HISTORY[/center]
Parents/Guardians: mom and dad
Siblings: none
Hometown: somewhere can't remember where
Birthday: 9/2
History: ray really doesn't have much of a past. he was raised by his parents and he left home at 16. thats it or at least what he tells people. could there be more to him? no one knows..
_________________
No Blood No Bone No Ash! The fire in my soul!
Spoiler: