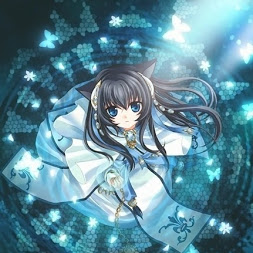 BASICS[/center]
Name: Gekko
Nicknames: none
Gender: female
Sexual Orientation: never thought about it
Age: 18
Race: neko
APPEARANCE
Eye Color: midnight blue
Hair Color: black
Height: 5foot 3
Weight: *silent*
Markings: none
Apparel:  whats in the picture

ADDITIONAL INFO
Personality: she doesn't really understand emotions. so shes kinda boring and plain. but shes very caring she just needs help with understanding the other emotions.
Habits: stares off into the moon when its full
Likes: night time and the moon
Dislikes: unsure
Special Ability: when the moonlight shines on her she can grant two wishes to one person.
Weapon: none
HISTORY[/center]
Parents/Guardians: *silent*
Siblings: none
Hometown: the moon village
Birthday: 9/5
History: no one knows must about her. all they really know is that she is the princess of the moon shrine.
_________________
No Blood No Bone No Ash! The fire in my soul!
Spoiler: