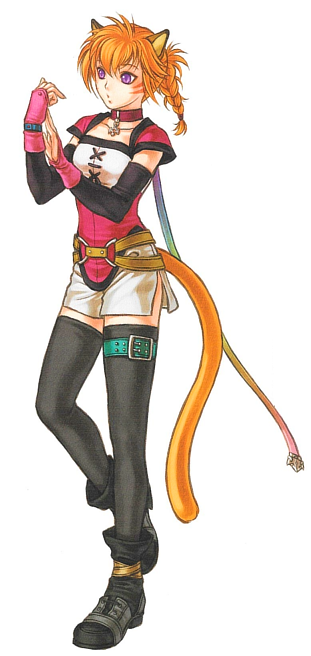 BASICS[/center]
Name: Lyre Emblem
Nicknames: none
Gender: female
Sexual Orientation: if your nice to her she likes you
Age: 19
Race: neko time travler
APPEARANCE
Eye Color: pruple
Hair Color: orange red
Height: 5foot 6
Weight: *sticks out tounge*
Markings: two lines on her both of her cheeks(see pic)
Apparel: what she wears in the picture

ADDITIONAL INFO
Personality: she can be rude sometimes and not mean it. she is laid back and funny to be around. but her personality mostly depends the kinda person she mets.
Habits: looking at her nails when bored
Likes: to steal
Dislikes: when people tell her shes wrong
Special Ability: she can travel through time but can only do it once a day because she is still very young.
Weapon: theifs knife and her claws
HISTORY[/center]
Parents/Guardians: grandfather
Siblings: none that she knows of
Hometown: village in the forest
Birthday: 6/25
History: Lyre was raised by her grandpa when her mother and father disappeared out of nowhere. she learned from her grandpa that she was a time travler but her powers weren't suppose to active until she was 22 years old. she was able to unlock some of her powers thanks to her grandpa. she travels from time to time everyday trying to find out what happened to her parents. but she always comes back every once in a while to stay with her grandpa and make sure hes ok.
_________________
No Blood No Bone No Ash! The fire in my soul!
Spoiler: