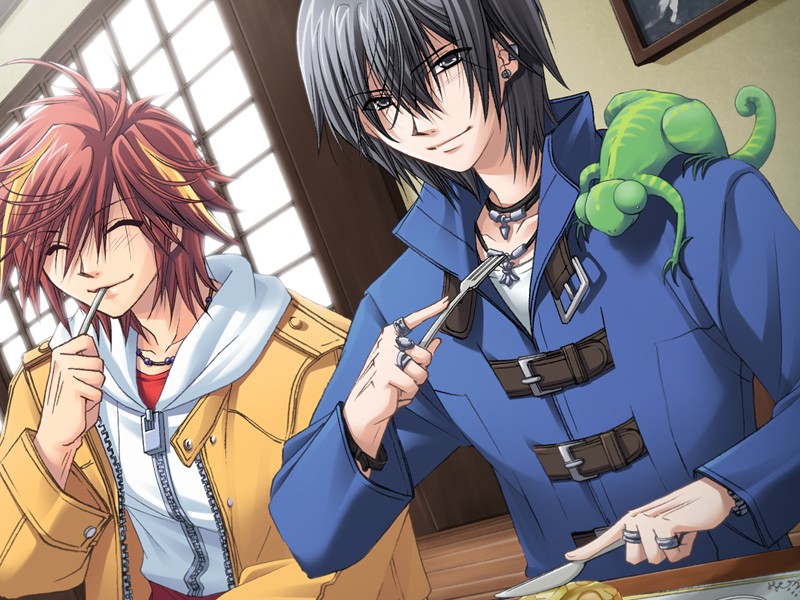 BASICS[/center]
Name: Ichiru (left) and Neru (right) Unima
Nicknames: none
Gender: male
Sexual Orientation: whatever they don't care as long as they like the person
Age: Ichiru 19; Neru 20
Race: Shinigma/demon
APPEARANCE
Eye Color: Ichuru-Purple; Neru-gray
Hair Color: Ichiru-pinkish with two blonde streks down the side; Neru-Gray amlost black
Height: Ichiru-6foot/ Neru-6foot 2in
Weight: Ichiru-153; Neru-156
Markings: Ichiru has a tattoo of a star on his left shoulder and one pricing on his right ear. Neru had two pricings on his left in (showen in picture) and a tattoo of a star on his right shoulder.
Apparel: what they wear in the picture or what ever they feel comfy in. Neru always wears all his rings and necklaces. Ichiru always wears his necklace and two braclets.
ADDITIONAL INFO
Personality: Ichiru is very different from Neru he is more upbeat and hyper. Neru is more serious and calm. However, their very similar in a lot of ways like they think alike. because all great minds think alike. they love to mess with peoples mind. they normally will act gay around people and they keep up the act even after people find out their brothers. they like getting a laugh out of it. they both love to get in trouble but Neru normally takes the blame because hes the oldest.
Habits: messing with peoples mind
Likes: Ichiru likes sweets and playing video games. Neru also likes video games but would rather read a good book on his free time.
Dislikes: boring situations
Special Ability: none
Weapon: anything pointy to them is a weapon
HISTORY[/center]
Parents/Guardians: don't remeber
Siblings: themselves
Hometown: Nerlas
Birthday: Ichiru- March 26; Neru- August 17
History: Ichiru and Neru both got into a bad car crash when they were about 16 and 17. they forgot most of their past but only parts of it the parts that were bad. after they both healed up they left the hositpal. thats when they began their fun adventure.